NIN Live - NotinCnStopMeNow's Live Recording Compilations
NIN fan, NotinCnStopMeNow, has been compiling 'best of' compilations of Nine Inch Nails live over the last 2 decades. I thought that I would host them here for people to download if you would like to check them out. They cover a range of different eras and compile the best recordings/performances from hundreds of recordings. I am glad they have found a home here, there are a few hours of each compilation, all meticulously picked for your ears. Here they are below with a download to each. Enjoy.
1) a mix of all that was (1988-2000)
This four disk cd set contains one of each song every played by NIN live (from 1988-2000). Each track is possibly the best performance of the song. The songs were picked because of some quality that others lacked such as unique lyrics, interesting sounds, instrumental solos, or because of something that makes them stand out. Because of this the sound quality isnít always the best. I apologize in advance for the sound quality of Closer To God, Heresy, and Kinda I Want To. Altogether this collection of songs sounds like one concert, but for reasons out of my control song changes are sometimes obvious.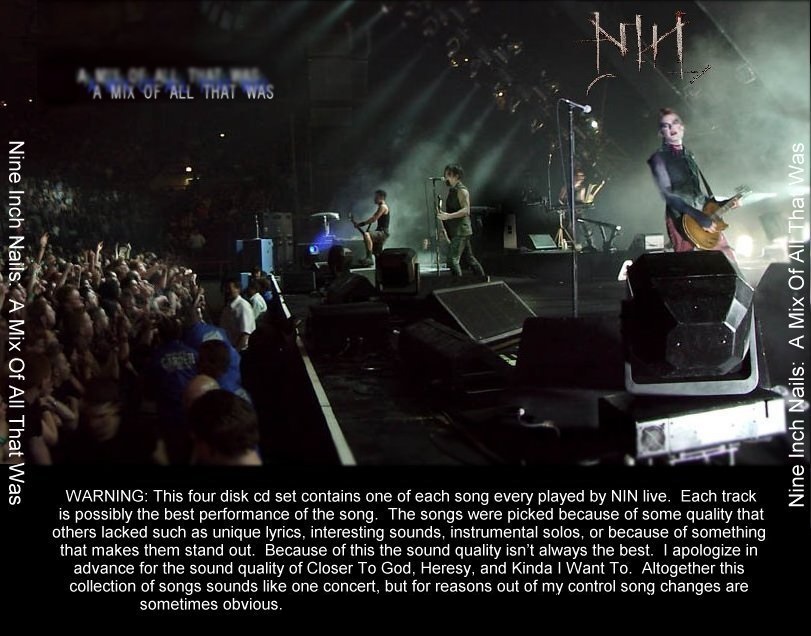 2) in this twilight (2005-2007)
I collected 120 bootlegs of NIN concerts from 2005-2007 and have put together a track listing of 60 songs, one of every song played live during this time frame. Each track is, in my opinion, the "best performance" of the song. I mixed them together to sound, to the best of my ability, like one continues concert. There are some obvious examples of where the tracks change but for the most part it flows pretty nicely. The songs were picked because of some quality that made them stand out to me such as unique lyrics, interesting sounds, instrumental solos, or something else completely like Trent getting pissed off at the audio or visual guys.
3) a million miles away (2008)
AMMA is a collection of one of every song that was played live during the 2008 Lights Over North/South America Tour. I went through every concert that was taped and found what I thought to be the "best" performance of each song and mixed them all together to make it sound like one concert. All tracks are FLAC sourced.
4) all that there ever was (1988-2008)
Pretty much right after I finished AMMA I made a playlist using all of my projects and started to compare the tracks between the mixes. This is where the idea for (is this really) "All That There Ever Was" came from, and ok so I like the song 1,000,000 a bit much. Eventually I picked out the best tracks, in my opinion, and started mixing. This is not a copy and paste job what so ever. All the tracks are redone and remixed using their original sources and not from my past projects. All the tracks are lossless sourced except for "The Great Below" and "The Way Out Is Through", I like these versions way too much and they only have lossy sources.
5) banged and blown through (2009)
Nine inch nails banged and blown through is a live audio compilation from the 2009 tour. One source of every song played live from this time frame were complied together to make one continuous concert. The sources for each song were chosen for a reason that made them stand out over all the others. Sometimes the sources had unique and/or emphases on lyrics and instrumentals while other had fuckups that somehow made them better. I was at the Webster Hall concert in NYC so the first part of the compilation is inspired by that nightís performance. The rest of the track list was created based on track flow and what sounded good to me. All of the encores from the final nights of the wave goodbye club tour were used throughout the compilation. The source of the song "In This Twilight" is from the final night and it is the last nine inch nails song played live, so enjoy it.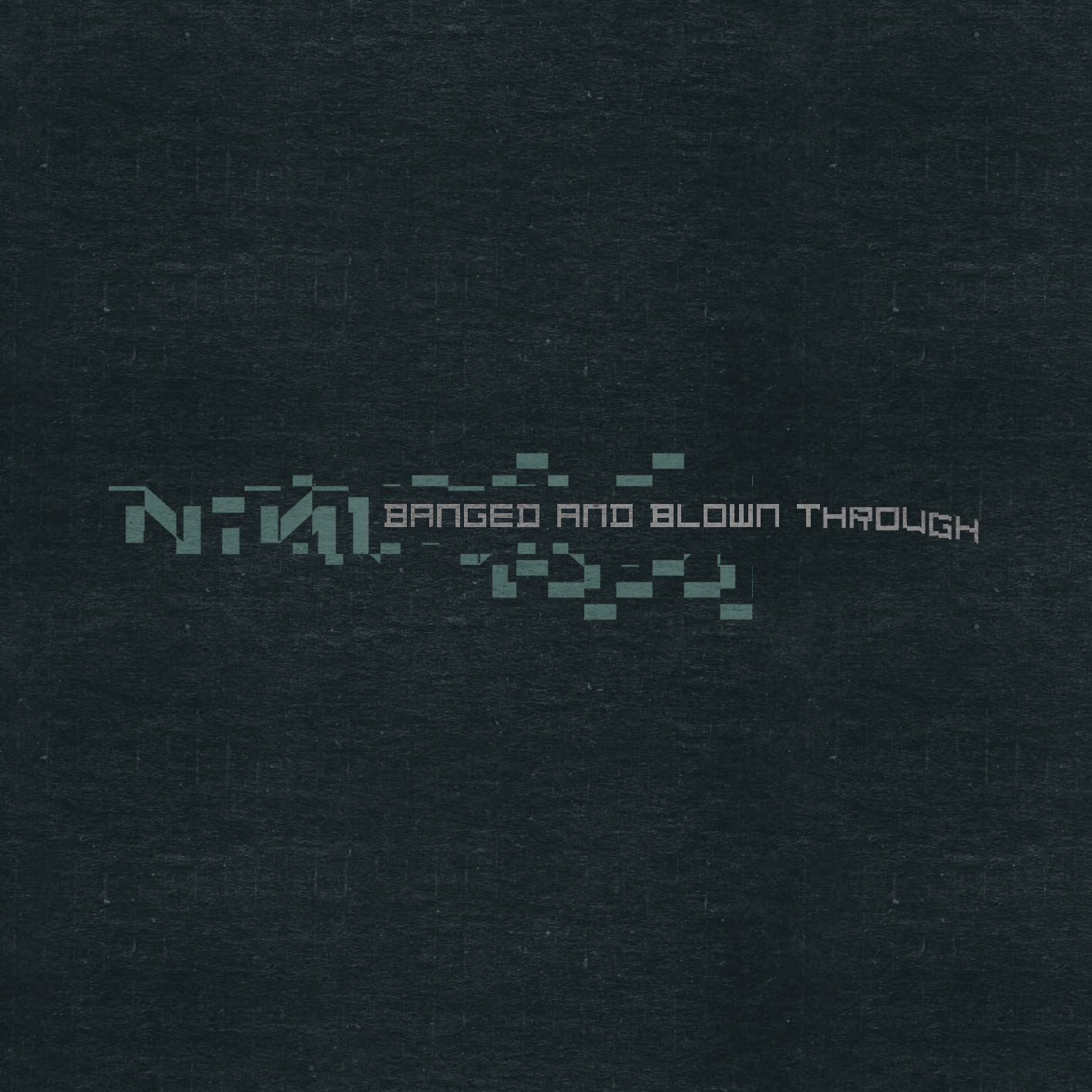 6) a mix... there ever was (1988-2009)
If you are familiar with my past projects then this one is pretty self explanatory. This is a best of the best of my previous 5 projects (A Mix Of All That Was, In This Twilight, A Million Miles Away, All That There Ever Was, Banged And Blown Through) and my last NIN project ever, unless they tour again. This is the best sounding, or most interesting in alot of cases, source of each NIN song ever played live all mixed together to sound like one long continuous concert. All of these tracks are from bootlegs recorded by fans and none are of official nature. The main setlist is 8 hours and 15 minutes long, with another bonus set that is 3 hours and long that contains tracks done with other artists joining NIN on stage. Tracks range from 1988 through 2009 and it is very interesting to hear the differences in the way the band sounded throughout the years.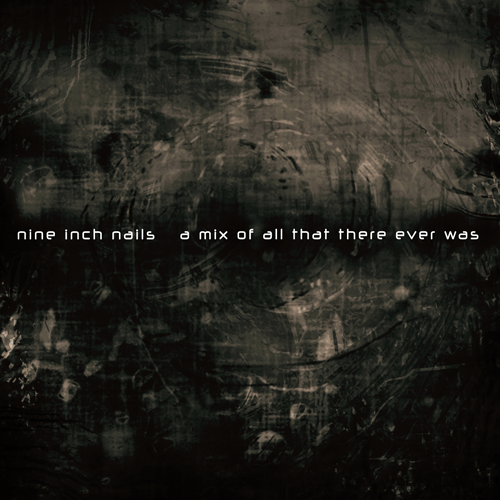 7) hallucinate in high fidelity (2013-2014)
nine inch nails hallucinate in high fidelity is a compilation album created from live concert recordings from the 2013-2014 tours. One source of every song taped over the two year span was selected by me and mixed together into one set. Each song was selected based on what "sounded the best". This could be an extra fuck here or there, an instrumental gem, or simply what sound fit in best for the album. There were 90 concert sources that the tracks were selected, from that 30 were used in this album with 60 total tracks.
8) nothing left to lose (2017-2018)
This is my live audio compilation project from the 2017-2018 tour cycle. This project has one version of every song played live during this time, mix altogether to sound like one giant concert. Songs are edited in many ways so that each flow nicely into the next and you shouldn't have to adjust the volume much during the 6 hour 20 minute set. I chose each song source based on what I thought was the "best". Could be because of unique lyrics, interesting fuck ups, things that Trent said, or simply because it just sounded fucking awesome. I added more of my comments to some songs in the comments text file. Enjoy!
8) over and over again (1988-2018)
30 years of live NIN. 211 tracks, 15 hours and 47 minutes long.