NIN Live Archive 10 Year Anniversary: The Top 10ish Live Recordings
Here are the my favorite recordings on the archive.

Trent Reznor, Atticus Ross. Los Angeles 12/14/2018.
Got about 32 hours worth of listening? Here is a list of Nine Inch Nails shows for you... December 31st, 2008 was when I first purchased reflectinginthechrome.com domain to be the host of the Nine Inch Nails live source guide. If you have frequented this site over the years, you know there have been many changes. Including getting the domain rights to ninlive.com and in the middle somewhere becoming a full fledge live archive that hosts downloads and getting support from the band. I still cannot believe it has been 10 years since I started this project. With my studies being in full effect, I haven't had as much time to make a lot of things like this. Below are my top 10(ish) recordings from the archive. It was really hard to pick my top recordings from the archive. As there are over 1,100 audio recordings here. But these are the ones that I frequently listen to. Quality varies for each recording, but I feel these performances are all top notch for their own reasons. These come in no particular order. Just by date from earliest to present day.
#1 - 08/14/1991 Stanhope, NJ, Lollapalooza - Billydee's Recording
This was a real treat to receive around 2014. I went to another taper's house to hang out in 2014 and he had a bunch of DAT masters from billydee that he was working on. I saw one that included NIN on it from this date. He had told me that it hadn't played on any decks prior but I was ok to give it a shot. Luckily, this played on my DAT deck at home and it sounds incredible. At that point, there were a few decent recordings on the archive from 1991 and the first versions of "Now I'm Nothing" from the Lollapalooza sets. But this was the first proper master copy that sounded really good I had on the archive. Although some points are brickwalled, this is still my favorite recording from the Lollapalooza shows that I revisit frequently. Sin's bass is super crisp and it's one of my favorite songs in their catalog. One of the coolest tapes added to the archive that had been uncirculated for 20+ years.



Trent Reznor, Lollapalooza 1991.
#2 - 05/04/1994 Houston, International Ballroom - Self Destruction Men Silver CD
I love the first leg of The Self Destruct Tour's setlist. They were still relatively short sets (to what they play now) but really heavy sets. Happiness In Slavery is just an assault on the ears and this recording is really crisp. This was one of the first recordings I highlighted on "RITC's Recording of the Week." I remember I would host one recording on the site each week for download. This was recorded on a Sony TCD-D7 DAT recorder and Sonic Studio mics. I have found out that the taper of this show sent the DAT master to a company in Italy to be professionally pressed to silver CDs. Essentially, those bootleg CDs you see in record stores for like $50. Thankfully with the archive, you can grab all of these and more on the website. Big Man With a Gun although short, is a great song live and this is my favorite from 1994.



NIN Houston 1994 - Self Destruction Men Silver CD Cover.
#3 - 01/18/1995 Milwaukee, Mecca Arena - Unknown Audience Recording
I am not 100% sure if this is a Dave Merz DAT recording. The guy has literally recorded a bunch of shows from NIN over the years and from what I have been told by many people. Has not released many of his recordings since 1995. One recording that I would love to hear is his Honolulu 2007 recording. But lets get back to this tape because I am not even sure this is his. But by the quality, it sounds like it. A very good recording that rivals a board feed with audience character for ambiance. Thanks to a good friend of mine, he had a DAT clone of this tape. It became one that stayed in my rotation of live shows for quite some time. I usually listen to this one from Eraser to the end. Just a very raw and intense show from the 1995 tour.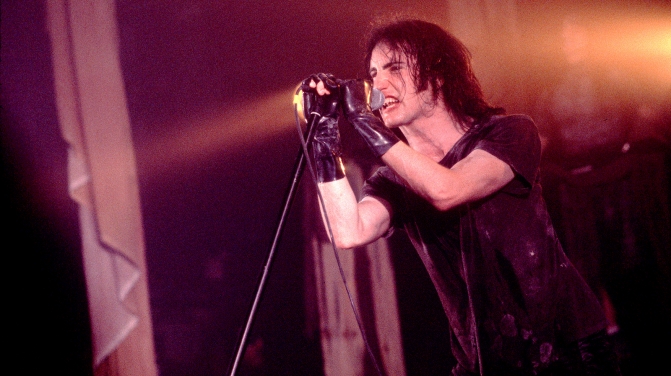 Trent Reznor, 1994. Photo By Paul Natkin, Getty Images
#4 - 06/07/2000 San Francisco, Cow Palace - Alex Coluzzi's Recording
This was one of the first recordings I had heard with Schoeps mics and one of the first NIN live recording I had gotten way back in the day through a B+P trade. Those CDs are long gone and decayed some time ago, but I thankfully have received a digital copy since then to host here. One of the few times 'Just Like You Imagined' and "The Fragile" were performed live on the Fragility Tour and this recording was also highlighted on RITC's recording of the week way back when. "The Great Below" from this show was the version used on And All That Could Have Been. I loved that Reptile was played so early in the set, as I've always felt that it was played during the last 3/4 of a show. This recording was probably one of the big reasons I knew I wanted to save up for Schoeps mics because I really loved the flat response they bring to recordings. I think this is one of the best recordings from this tour.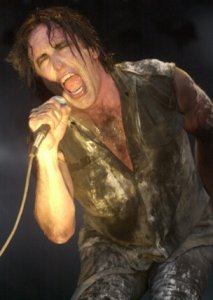 Trent Reznor, 06/07/2000 San Francisco.
#5 - 05/03/2005 Denver, The Fillmore - BT's Recording
I honestly could have picked 10 With_Teeth Club Tour recordings to be on this list. These were my favorite sets up until that point and I still think they are some of the best. All the venues were spot on for NIN and the raw lighting and heavy hitting setlists that followed every single night. This May 03rd, 2005 show was very elusive for any recording for 11 years. I had gotten into contact with a Denver taper named, BT. He just so happened to have taped both nights in Denver and never released them! There are many stories like this ones, so if you have something that isn't on the archive. I'd love to get a copy! :) This was the same day that With_Teeth was released and Trent makes mention of it during the night. I have listened to this recording countless while studying. That Beside You In Time Intro into Love is Not Enough gives me goosebumps everytime. Trent's voice sounds super stellar on this recording and really throughout the whole 05/06 tour. March of the Pigs and Piggy get me so hype from this show. Makes me want to grab the mic from Trent after stage diving into the crowd!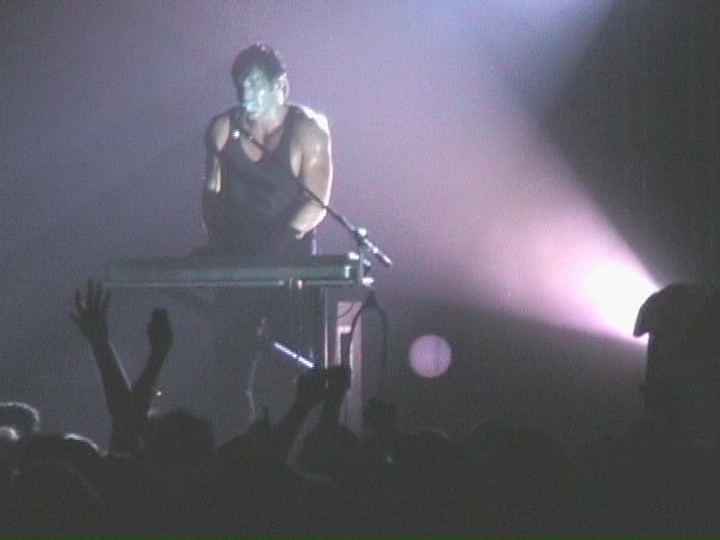 Denver 2005.
#6 - 05/18/2005 Philadelphia, Electric Factory - Crimson's Recording
This is one of those recordings that was an honorable mention that I couldn't leave off. Crimson let me borrow his master DAT tapes from a lot of shows he has recorded over the years. Once I transferred them, I never heard back. (I still have them and was hoping to give them back to you one day, please get in contact) and I just LOVE "Pinion > Wish" for this show. I loved seeing Love is Not Enough later in the set. It is easily one of my top 5 favorite tracks (Somewhat Damaged, Eraser, Sin, & Branches/Bones the others) and wish it was played still to this day. Bring it back!!!! The synth intro to March of the Pigs for this show is NASTY!!! It sounds so good on the recording. Everyone remembers the Philly shows from the "Something's gonna get broken" moment (May 19th). We all know that Trent is a perfectionist for the live show, and I appreciate and respect that a great deal. But a few things wouldn't work out... Mics going out, guitars going out, PA going out and I think they made these shows just that much better. There is also a really good video recording from both nights available and I used to watch those video recordings a lot when I was in high school. Yeah, it's been a long time since then.



Trent Reznor, Philadelphia 2005.
#7 - 06/12/2005 Tuttlingen, Southside Festival - Sebastian's Recording
I remember first hearing this recording after I downloaded it in my dorm room my freshman year of college (hard drive space was scarce at that time) so it was about 2 years after the show itself. I had the headphones on and just minding my business in the library about to study for a chemistry exam I had... Pinion starts and the end is coming and these clear ass vocals come through saying, "AHHHHHH RIGGGGHHHHHHTTTTTT" and I just FLIP. OUT. I'm like, "Ok, let's goooooo!!!!" Love NIN's festival sets, most just don't fool around and they bring heavy hitters. One of the few times that they played "Getting Smaller," which is another favorite of mine. The sound on this recording is stupid good. I believe it was recorded just a few feet from the speakers and hence why it sounds so stupid good. A very interesting set with Hurt not being the end of the show and they go into You Know What You Are? I love it!



Nine Inch Nails, Southside Festival 2005 - photo by Alex.
#8 - 03/23/2006 Corpus Christi, Concrete Street Amphitheater - Aleal's Recording
I always thought this was a weird venue for NIN to play at. I love when they play the second market cities and the With_Teeth Tour was just incredible with how many gigs they played over that year span. I remember checking The Spiral almost daily to see what the setlist was the night before. The With_Teeth Winter Tour were some of my favorite shows and it was hard to pick one. Especially since they brought back Mr. Self Destruct into the set!! But I love this recording 1) The venue always made me think how cool it must have been to see NIN there and 2) It's also a great recording, duh. Love the Pinion > Mr. Self Destruct > Sin > Terrible Lie to open up the show. Then Eraser > The Day The World Went Away > Piggy! Again, just like the recording above, this sounds like a stack tape. Trent's voice is so clear in this recording. I love it.


#9 - 06/11/2006 Virginia Beach - Soundboard
Although you would think I would have more soundboard recordings in my top 10, I really don't care for them. You miss something from the audience with these recordings. But this one would be stupid to leave out. Somewhat Damaged from the 2006 tour is the best rendition of that song ever. No question about it. The fact Trent just walked up while the lights were still on and your ass wasn't in your seat yet for the start and he just started played was so nasty. Screaming the verses always brought me chills. The "Make the choice to go ah-WAAAYYYYY" was pretty hard on the voice and can see why that doesn't happen anymore. But every now and then, you'll hear it happen during a show. Some of the last shows Get Down Make Love and Down In It were played and it's great to have board versions of these. This leaked with the With_Teeth Tour Rehearsals, which are also awesome. Never really knew where these came from (mofoboy) but I always assumed that they were meant to get out to the fans from the band themselves.



06-11-2006 Virginia Beach Poster.
#10 - 04/04/2007 Frankfurt, Jahrhunderhalle - Jadg's Recording
I remember when I first heard this recording. I had to email my friend who I got this from and ask them if they were messing with me that it was an audience recording. You want to talk about the best recording of the 2007 tour. This is it. Literally no crowd noice on this recording and this can definitely be mistaken for a board feed. I talked with the taper a few years later and they said they just got lucky with where they were recording from. This was recorded at the rail in front of the stack. I think this is the best recording I have heard with Core Sound Microphones, for sure. Just like the W_T Tour. I was following along with the setlists every night on this tour and also the ARG. Hoping that there was another clue to come out from the shows. This show is a definitive recording just for the amazing quality of "We're In This Together" live (alternate video below). It wasn't played much because it's really tough vocals, but this is all you need.


#11 - 05/23/2007 Osaka, Zepp - Revisionism CD
I'd be dumb to leave out any of the Japan Nine Inch Nails shows from this list (honorable mention pretty much any of the 2014 run of Japan shows @ Studio Coast are ridiclous) but I have a real soft spot for the Year Zero shows because well... I didn't get to see any. Most of these Japanese shows were sold on bootleg sites and thanks to TheBang, were liberated and shared amongst fans. This show has it all... Hyperpower! > The Beginning of the End (which I want to see live so bad) > Last... Then Capital G, HMIAIH > Me, I'm Not > Eraser... NO, YOU DON'T INTO MR. SELF DESTRUCT... Just heavy hitters. Just a super balanced setlist. Japanese fans are super respectful and such quiet audiences. I hope to one day see NIN play there. Below is a video for Alessandro's birthday from the next night in Japan. Filmed by NIN with soundboard audio.


#12 - 11/16/2013 Las Vegas, The Joint - Tapeworm48's Recording
The 2013 Tension Tour doesn't get enough credit for what it was. The elaborate stage design and visuals were absolutely stunning. Probably some of the best ever. Moment Factory, Rob and Trent went all out in this department. Not to mention, it was the most musicians NIN has ever had on stage for a tour! Adding the backing vocalists, Sharlotte Gibson and Lisa Fischer to the tour added more range to the vocals. Also Pino Palladino on bass. Along the tour, there were more visuals and songs added (like In Two) and the first time "All The Love In The World" was performed live! The Las Vegas shows were a culmination of all this. Both sets to both night in Las Vegas were basically every song they had performed during the whole tour and each set varied. Tapeworm caught both shows and this was my favorite set of the two nights. Trent also face timed NIN fan Andrew Youssef prior to 'In This Twilight' and dedicated the song to him. He was battling cancer and wasn't able to attend. Thought it was an awesome thought of Trent to do that for a big fan.


#13 - 07/26/2014 Clarkston, DTE Energy Music Theater - RyanJ's Recording
I almost feel like this is a shameless plug... As this is one of my recordings. I've taped NIN a bunch of times but this is definitely my favorite recording I've done of them. I remember that I was going to Kraftwerk in LA during the onsale date and tried getting tickets on my crappy phone with the wifi at the airport. No dice... My brother scored tickets but was super far from the stage. I thought I was pretty screwed to get a good recording from this show. A fellow taper messaged me a few weeks prior to the shows I would see in Chicago and Detroit to see if I wanted to borrow his Schoeps CCM4s for the shows. Uhhh... YA! So, even though not expecting much from these seats. We listened back to this in the car and knew right away it was a good tape. We sat in line with the right stack and picked up the sound perfectly (in like row ww or something like that, which is far for taping). We also got to go back stage before this show and check out the lighting rig and go up on stage to see all of the gear. It was a surreal experience and very grateful for that opprotunity. This was the last time they played The Warning live and the only time they played it on the US 2014 tour. Also a notable flying guitar during "Terrible Lie" that you see below.



Trent Reznor, Clarkston 2014.
#14 - 09/15/2017 Chicago, Riot Festival - Tapeworm48's Recording
I was at this show and was super pumped to see New Order and NIN on the same stage. My recording came out ok, even though this was quite possibly the best mixed show I've ever been to. Especially at a festival. Amazing sound. Not only that, this setlist was the best out of the short run of shows during the 2017 tour. This was the debut show of 'The Background World' live. NIN left the stage after their main set for what was probably 30 seconds. Trent came back out on stage and said, "fuck it, we're playing some more." Then the beginning synth notes of 'Somewhat Damaged' started to play. It was so nasty, I loved it! I even told Trent about it when I met him in Atlanta. I believe that was the first time they ever did that song as an encore. My brother recorded video of me during the song, which you can see below. Ha! Don't even care, I teared up during their cover of Bowie's "I Can't Give Everything Away."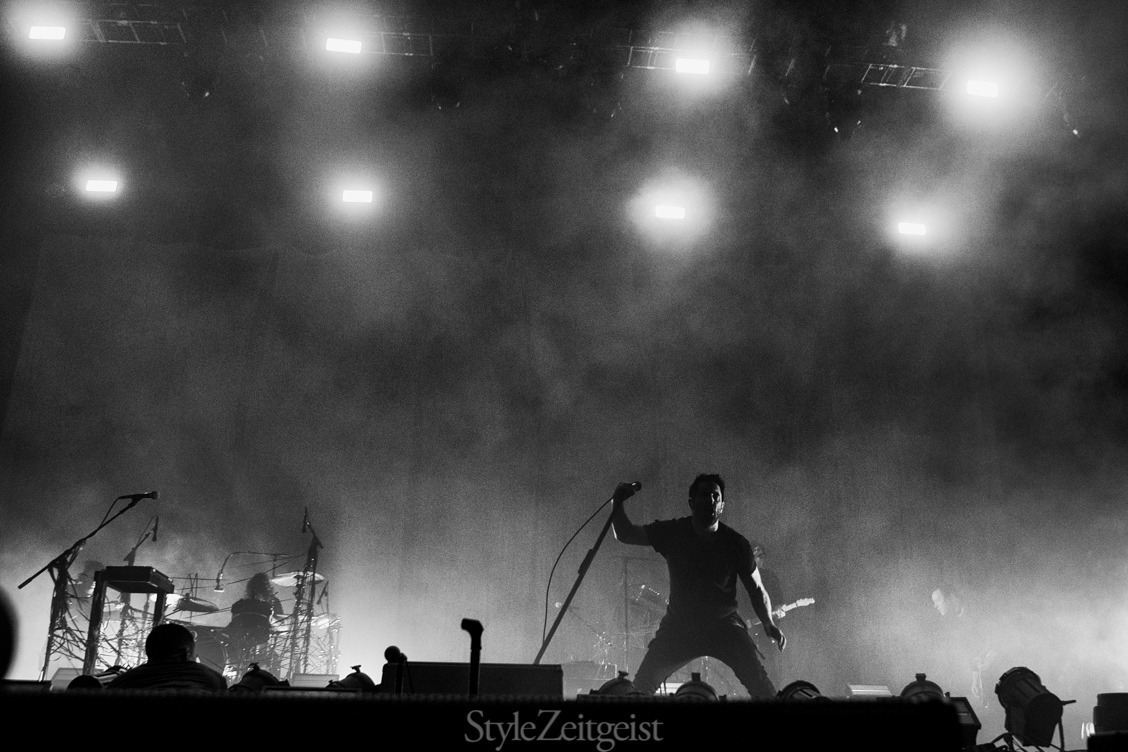 NIN, Riot Festival 2017. Photo By StyleZeitgeist
#15 - 12/16/2017 Houston, Day for Night Festival - Anonymous' Recording
Set was cut short due to rain. But it did not disappoint one bit. The last show of 2017. Especially after this show, I wasn't sure if they were going to play more shows and go back into hiding. Glad I was wrong. If you couldn't figure it out, but I love Brances/Bones as an opening song. It was cold and rainy all the way up to the start of the show. But once the show got going, you didn't notice. Reptile in the rain was NASTY!!!! So metal and evil. You can hear it on the tape. Although I would have loved to seen 'Great Destroyer and Burning Bright (Field on Fire)" it was cool to see the show end with "The Background World." Although they said they would come back to tell us what's up, they never did. We all walked away wanting more, but that hour was full of energy. BTW, this was my recording :)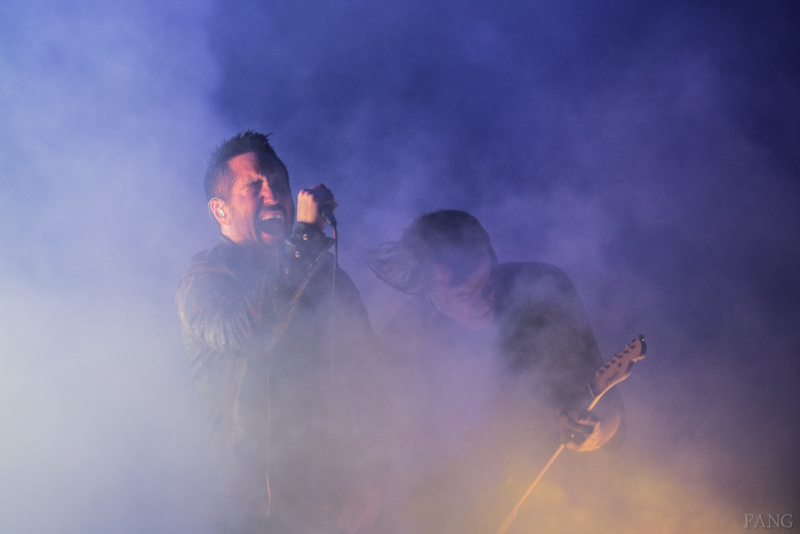 Trent Reznor & Robin Finck, Day for Night 2017. Photo By Thomas Fang
#16 - 12/07,08,11,12,14,15/2018 Los Angeles, Palladium Run
I loved the Cold and Black and Infinite Tour. I think out of any tour. Loved they played multiple nights in each city and just a few cities each month. But not only that, the setlists varied quite a bit if you made more than one show in a city! Trent wanted to go back to just simple lights and focus on the music, which I think this tour did. The Palladium run of shows played every single song (except Came Back Haunted that was only played in Atlanta) from this tour! And All That Could Have Been was debuted live in Chicago and it was atop many fan's song request to play live. Broken was played in full end as well. LA had some special guests on these shows come out to perform some tracks. Gary Numan to perform "Metal," Mariqueen to perform a handful of How To Destroy Angels tracks and Mike Garson to play "Just Like You Imagined" and an epic torn down version of "In This Twilight." I love seeing NIN in arenas and amphitheatres. But there is something about seeing NIN in a smaller theater/club that makes the performance that much better.



NIN Palladium Marquee 2018. Photo By Ryan Jonik
This was definitely long overdue. It was hard to choose my top recordings. But like I've said, these are the tapes I revisit quite frequently. You've got over 1,000 sources to choose from on the archive that could make your top recordings. I would love to hear some of your favorites here on the archive. Still cannot believe it's been 10 years! Just stoked and flattered how many of you still use the site and converse with me about the interests we share.
If you have a recording that you would like to upload to the archive, or have a tape that is not on the archive at the moment and would like to get it to me, please email me or tweet me @ninlive. You can upload the audio/video recording to the FTP to make it easy. Or send me the tapes via snail mail for me to properly transfer digitally. Thanks for all your support over the years and hope that we can do another 10 years!