NIN Live: 1995
January 03, 1995, Montreal, Quebec, Theatre Du Forum
Setlist
Pinion
Mr. Self Destruct
Sin
March of the Pigs
Piggy
Reptile
Gave Up
Happiness in Slavery
Eraser
Hurt
The Downward Spiral
Wish
Suck
The Only Time
Down In It
Head Like a Hole
Closer
Dead Souls
Something I Can Never Have
Show Memorabilia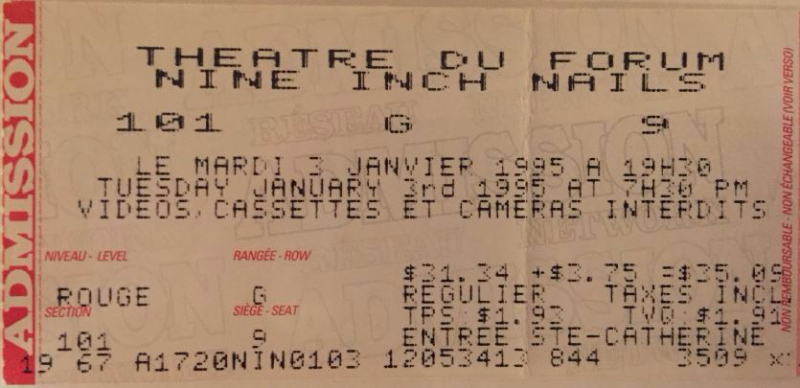 Known Recordings
Source 1: Audio - AUD, Unknown
Taper: Unknown
Time: 95 minutes
Rating: 4 out of 5
Hear a Sample: Wish, 2 Minutes
Download the Full Show: .Zip File FLAC, 647.4 MB
Added to Archive: April 08th, 2014
Comments:
This is an upgrade to the source that I previously posted on the archive. This comes from a 2nd gen cassette thanks to Smores for allowing me to borrow a bunch of his cassettes to archive. The sound quality is a big jump from the previous unknown version that has been out there. Would love to find any sort of information on the taper/equipment for this one. After "Eraser" is the tape flip, some of "Hurt" is cut from the recording.