NIN Live: 1990
February 24, 1990, Knoxville, TN, Bijou Theatre
Setlist
Intro
Terrible Lie
Sin
Sanctified
That's What I Get
Get Down Make Love
Ringfinger
Down In It
Head Like a Hole
Show Notes
Trevor dug up his old ticket stub of this date. Confirming that this show took place at Bijou Theatre. Not Planet Earth like was once thought. Venue is now updated.
Show Memorabilia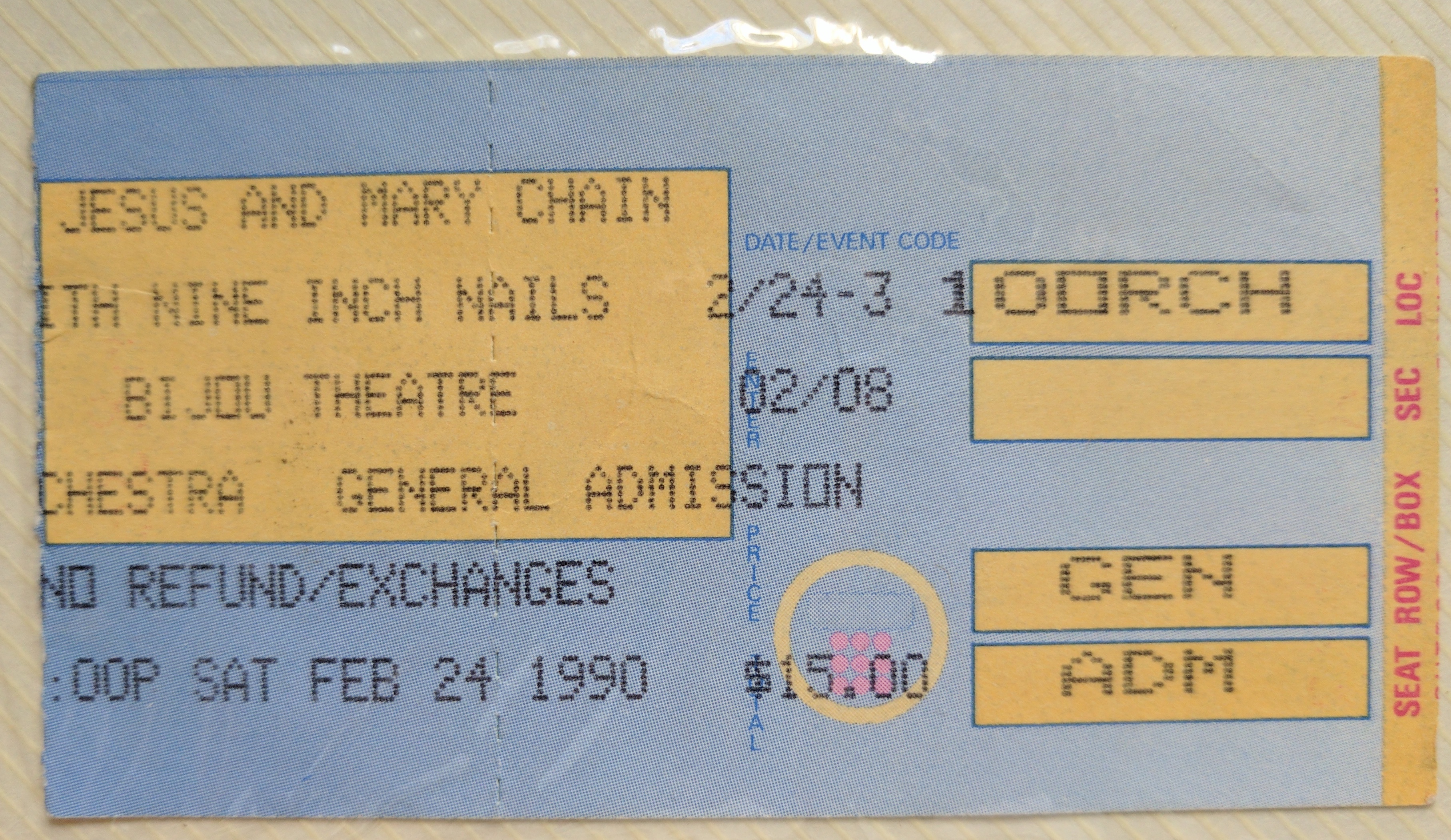 Known Recordings
Source 1: Audio - AUD (Sony Walkman + Unknown Mic)
Taper: Trevor Blake
Time: 42 minutes
Rating: 4 out of 5
Hear a Sample: Head Like A Hole, 2 minutes
Download the Full Show: .zip file FLAC, 288.4 MB
Added to Archive: February 15th, 2017
Comments:
I've had this tape for almost 3 months and was in talks about getting this tape for almost 3 months prior to that! My Nakamichi cassette deck crapped out on me and I needed to get it repaired. This was the first thing that I put into it. Skot emailed me back in August and told me he had a few tapes of his friends that had been sitting in a box for years. This was one of those tapes. The recording is fantastic for a 1990 tape! Full recording, and fades in just a few bars after the intro begins. Taped by his friend Trevor on a Sony Walkman, this is one of my favorite finds for the archive! Thank you for Skot getting a hold of me and sending me these tapes over for the archive! I'm so happy to have added this, to what would have been just a tape rotting away in a box. Awesome!