NIN Live: 2007
August 13, 2007, Prague, Czech Republic, Slavia Zimni Sdion
Setlist
Hyperpower!
The Beginning of the End
Sin
March of the Pigs
The Frail
The Wretched
Closer
Survivalism
Burn
Gave Up
Me, I'm Not
The Great Destroyer
Eraser
Only
Wish
The Good Soldier
No, You Don't
Suck
The Day The World Went Away
Dead Souls
The Hand That Feeds
Head Like a Hole
Hurt

Show Memorabilia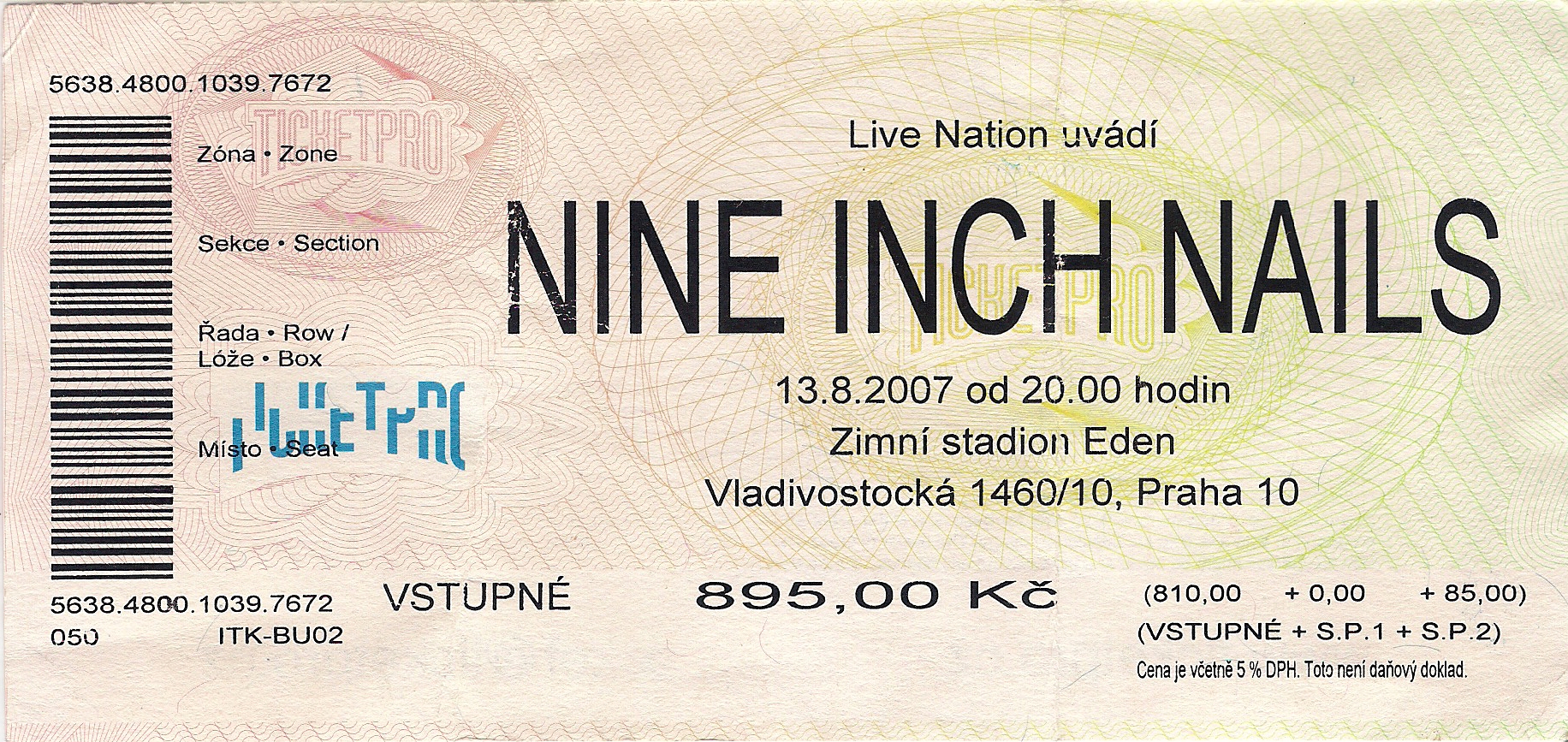 Known Recordings
Source 1: Audio - AUD, Unknown
Taper: Unknown
Time: 51 minutes - Incomplete
Rating: 3 out of 5
Hear a Sample: No, You Don't, 2 Minutes
Download the Full Show: .Zip File MP3 - 192, 72.6 MB
Added to Archive: May 09th, 2013
Comments:
From ETS. This recording only had the last 50 minutes or so, starting at the end of "Eraser." The mics overload and distort throughout due to the heavy bass.
Source 2: Video - AUD, Unknown Audience Recording
Taper: Three Primary Objects
Time: 94 minutes
Rating: 3 out of 5
Download the Full Show: .zip file MP4 - 480p, 538.9 MB
Added to Archive: June 21st, 2020
Comments:
Thanks to fillow, this was ripped from Youtube user Filip Machacek. Here are some notes from Fillow, "I don't think he's the taper/filmer, but who knows. My guess is he obtained the shows locally. 2007 show has the following credit at the end: "This DVD was made for fans... by Three Primary Objects." Google search on the actual DVDs or Three Primary Objects led me nowhere. Initially Filip only had Part 1 of both concerts on his channel (which looked suspiciously like VTS_01_1.VOB from a DVD uploaded on its own). He then uploaded the full shows upon my request. However, I couldn't get him to admit or deny if he has the actual DVDs, and his communication stopped entirely eventually."
Screenshots: