NIN Live: 2009
July 24, 2009, Budapest, Hungary, Syma Sports and Events Centre
Setlist
Pinion
Wish
Last
Discipline
March of the Pigs
Piggy
Reptile
Burn
Gave Up
La Mer
Something I Can Never Have
Non-Entity
Gone, Still
The Downward Spiral
Mr. Self Destruct
1,000,000
Echoplex
Survivalism
The Good Soldier
Dead Souls
The Hand That Feeds
Head Like a Hole
Hurt
Show Memorabilia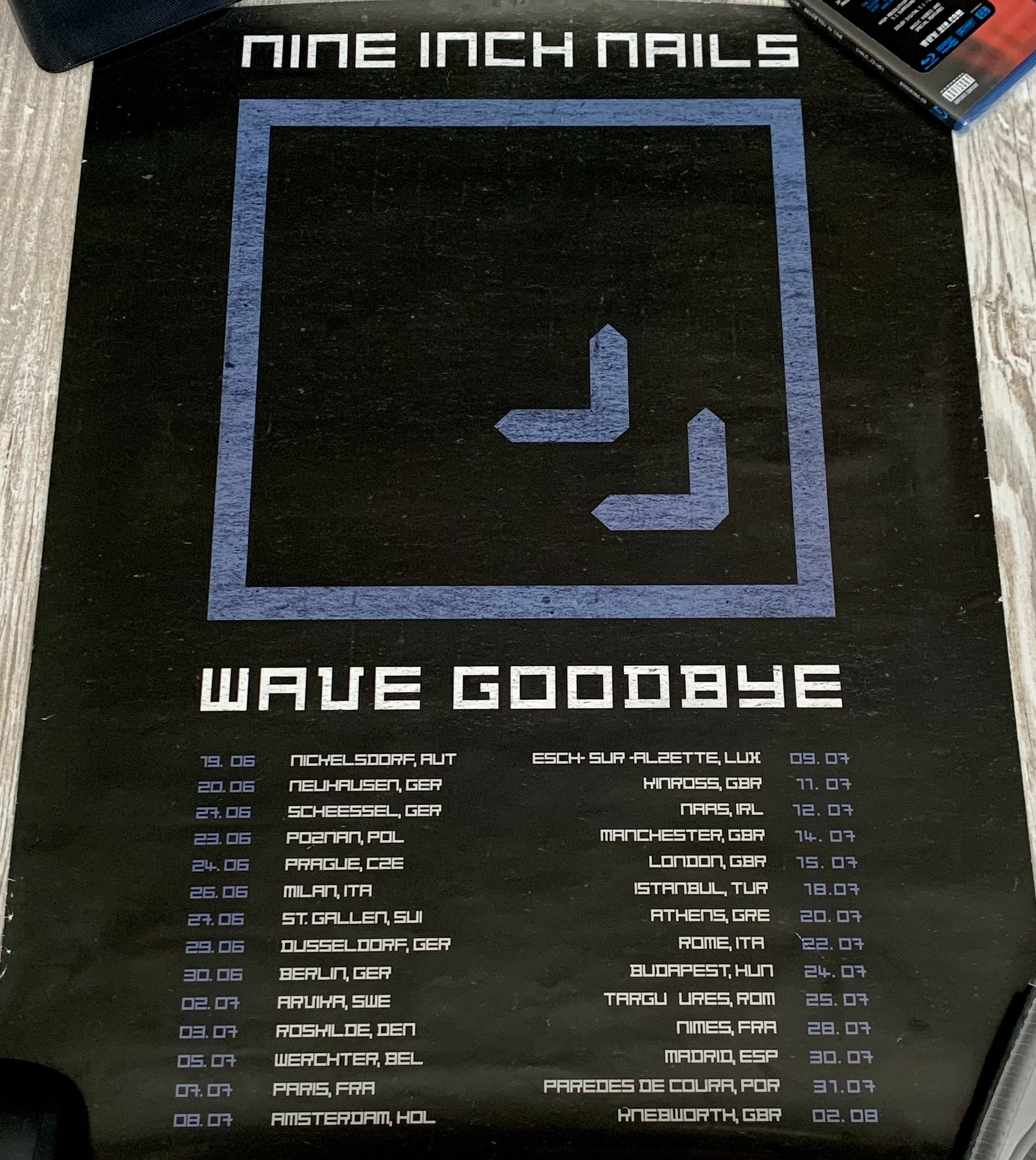 Known Recordings
Source 1: Audio - AUD (Sanken COS-11sPT Red Marks + Sound Professionals SP-SPSB-6 + Sony MZ-RH1)
Taper: mmuzik
Time: 109 minutes
Rating: 4.5 out of 5
Hear a Sample: The Good Soldier, 2 Minutes
Download the Full Show: .zip file FLAC, 580.8 MB
Added to Archive: July 20th, 2011
Comments:
Released July 2011. Great recording, Finck's guitar is more apparent in this recording (From taper notes) which if you like that more, you definitely want this recording! Great to get another European show onto the archive!
Source 2: Video - AUD (Multi-Cam Audience Sources)
Taper: Fillow
Time: 108 minutes
Rating: 3.5 out of 5
Download the Full Show: .zip file MP4-480p, 7.8 GB
Added to Archive: August 20th, 2019
Comments:
Notes from Fillow, the editor of this project, "Ten years ago Nine Inch Nails fooled everyone by pretending they are calling it a day, and they made me drop everything and travel 1,000 km across Europe to Budapest to see them live. This turned up to be one the best shows I've ever been to. This film has been created with the footage taken and shared by 36 different people, who attended the show, and to whom I am forever grateful. I've been there too, and it's so good to have an opportunity to relive the moment. I believe it's truly an amazing amount of footage for a non-coordinated effort. Five people have been kind enough to unearth the original raw camera footage, almost ten years after the show. The rest of it was uploaded to Youtube, Vimeo, Facebook and Dailymotion over the years and I did my best to collect it all. Working completely alone, it took me almost 8 months to edit it all together (November 2018 - July 2019), and now I'm glad to present this film on the show's 10th Anniversary. I hope you'll enjoy it."
Screenshots: