NIN Live: 2018
October 27, 2018 - Chicago, IL, Aragon Ballroom
Setlist
Now I'm Nothing
Terrible Lie
Last
Letting You
March of the Pigs
Sanctified
1,000,000
Ahead of Ourselves
Closer
I Can't Give Everything Away (Farewell Mix)
Subterraneans (God Break Down The Door/The Frail Interpolation)
The Perfect Drug
Sin
Gave Up
The Big Come Down
Starfuckers Inc.
Wish
Head Like a Hole
Shit Mirror
Even Deeper
Hurt

Tour Journal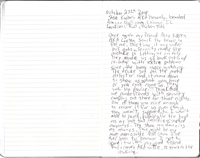 Show Memorabilia
Known Recordings
Source 1: Audio - AUD (AT831s > SP-SPSB-11 (@69Hz) > Sony PCM-M10)
Taper: Tapeworm48
Time: 102 minutes
Rating: 5 out of 5
Hear a Sample: The Big Come Down, 2 Minutes
Download the Full Show:
.Zip File FLAC, 1.1 GB - 24-Bit
.Zip File FLAC, 593.6 MB - 16-Bit
Added to Archive: November 4th, 2018
Comments:
Another strong tape from Tapeworm, this recording was done 40' from the right stack, FOB. Just like the night before. IMO, this tape is better than the previous night! (If that's even possible). Aragon has always been notorious for having terrible acoustics, but this tape shows none of that.