NIN Live: 2022
November 13, 2022 - Columbus, OH, Nationwide Arena, Joe Walsh & Friends Present VetsAid 2022
Setlist
Wish
March of the Pigs
Piggy
The Lovers
Less Than
Heresy
The Perfect Drug
The Hand That Feeds
Head Like A Hole
Hurt

Show Notes
- VetsAid is a benefit concert that is put on by Joe Walsh for US Veterans. This year's event had all artists from Ohio. Including, The Breeders, The Black Keys, NIN, James Gang and Dave Grohl.

- This show was live streamed via veeps, a streaming platform. It was captured but will not be hosted on the archive at any time. Just like the 2014 Grammy performance. I have received a cease and desist from Veeps for the audience recordings as well. As much as I don't agree with it, they will not be hosted either.

- From this show forward, the archive will only be putting the highest quality downloads available for each show and not the different versions (16bit v 24bit) as fans voted that the HQ version is just fine. It will help with server space as well as time for uploading shows on my end!
Show Memorabilia
Known Recordings
Source 1: Audio - AUD (Schoeps MK4 + Babynbox + Sony PCM-M10 [Oade Concert Mod] / Feed)
Taper: RyanJ / Anonymous
Time: 46 minutes
Rating: 5 out of 5
Hear a Sample: Unavailable
Download the Full Show: Unavailable
Added to Archive: November 15th, 2022
Comments:
NIN packed 45 minutes of just a nasty performance for the VetsAid concert put on by Joe Walsh. The start of Wish with the house lights on and the stage full of fog is absolutely epic. As TR stated, this will be the last performance of 'The Cold And Black And Infinite' era. I assume losing the raw aesthetics that we've seen on stage since 2017 and maybe one member is taking time away from touring? Not sure. Either way, NIN blew the roof off with this set. Really enjoyed all the performances from the evening. Thanks to anonymous for the feed, it was quickly worked on and matrixed together! I heard that the livestream audio had some echo in it throughout the night. So hopefully this makes up for it! Note this was uploaded to DIME but was banned because of the stream still being available for purchase. This is not the stream. All audience sourced. There was also a few changes to this audio recording and is the definitive source. I made a few errors that you may or may not notice in the initial seed.
Source 2: Audio - AUD (AT853 (4.7k mod) + Sony PCM-A10)
Taper: zeegrizzle
Time: 45 minutes
Rating: 4.5 out of 5
Hear a Sample: Unavailable
Download the Full Show: Unavailable
Added to Archive: November 15th, 2022
Comments:
It wouldn't be a complete US NIN show without a source from zeegrizzle. Ironically, he was seated a row or two behind us at this show! Tape is really really good.
Source 3: Video - AUD (Panasonic ZS100 + Source 1 Audio)
Filmed By: RyanJ
Time: 46 minutes
Rating: 5 out of 5
Stream Online: Unavailable
Download the Full Show: Unavailable
Added to Archive: November 15th, 2022
Comments:
Synced with the source 1 audio, this was filmed by me from my seat. Stable camera work throughout in 4K. This is not the livestream.
Screenshots: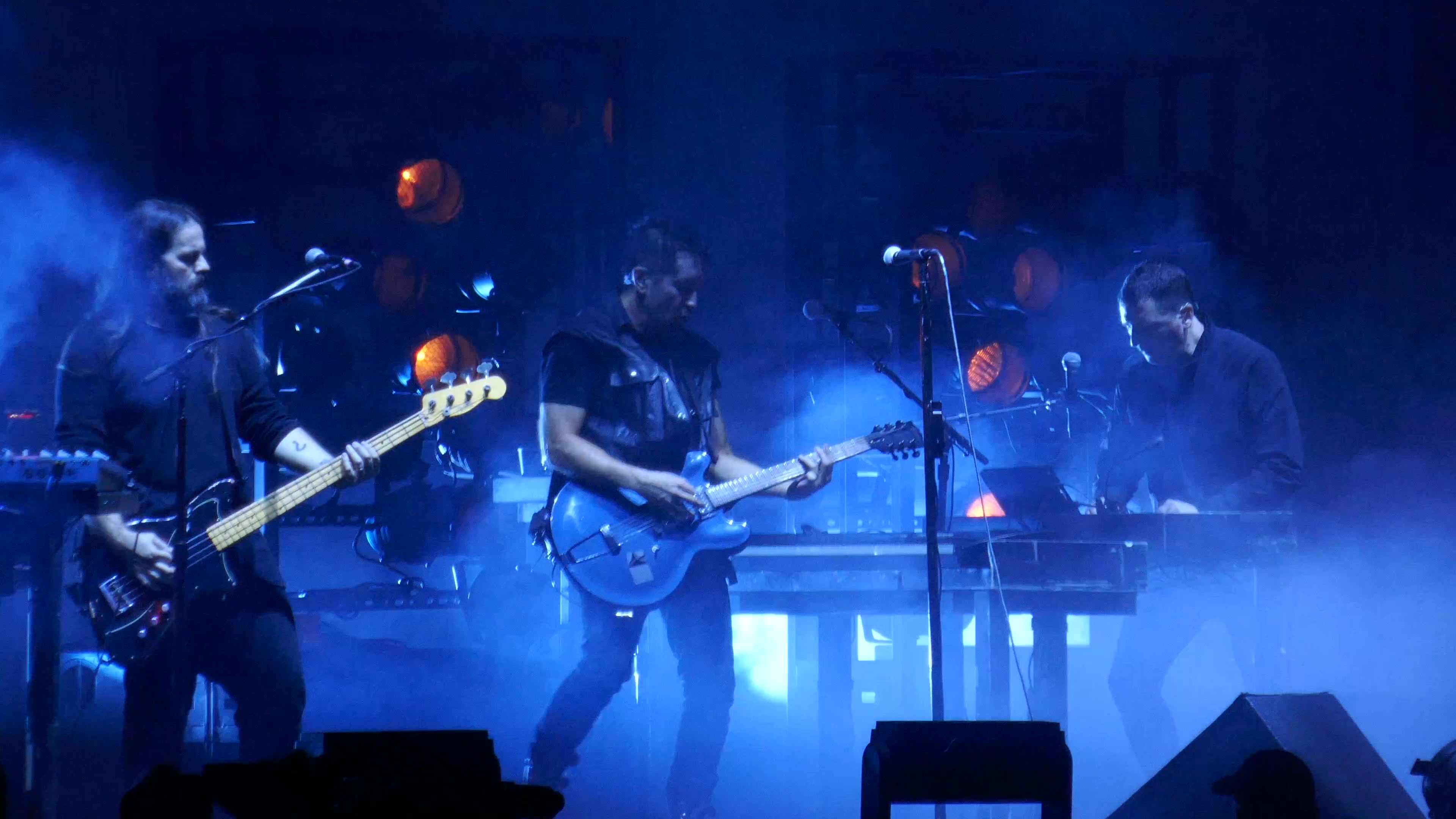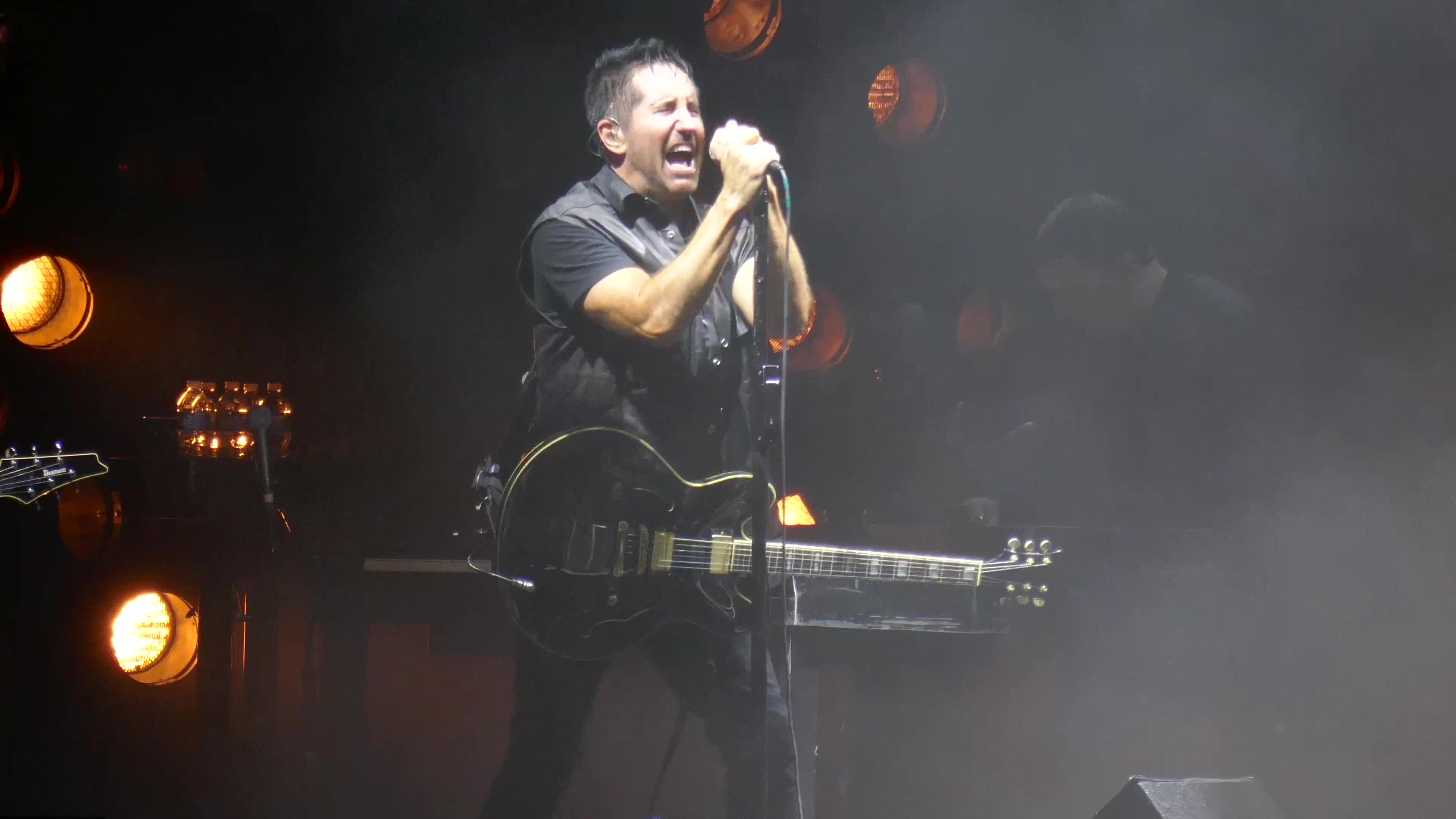 Source 4: Video - PRO, Pro-Shot Video w/ Source 1 Audio
Filmed By: VetsAid
Time: 46 minutes
Rating: 5 out of 5
Stream Online: Unavailable
Download the Full Show: Unavailable
Added to Archive: February 23rd, 2023
Comments:
This is the live stream that was put on by VetsAid/Veeps for the show. The soundboard audio of NIN's set had some nasty feedback and is not very listenable. Someone was kind enough to sync up this footage with source 1 audio. It was filmed in the Cold and Black and Inifinite b/w theme on stage for one last time. This is also not available for download on the archive.
Screenshots: